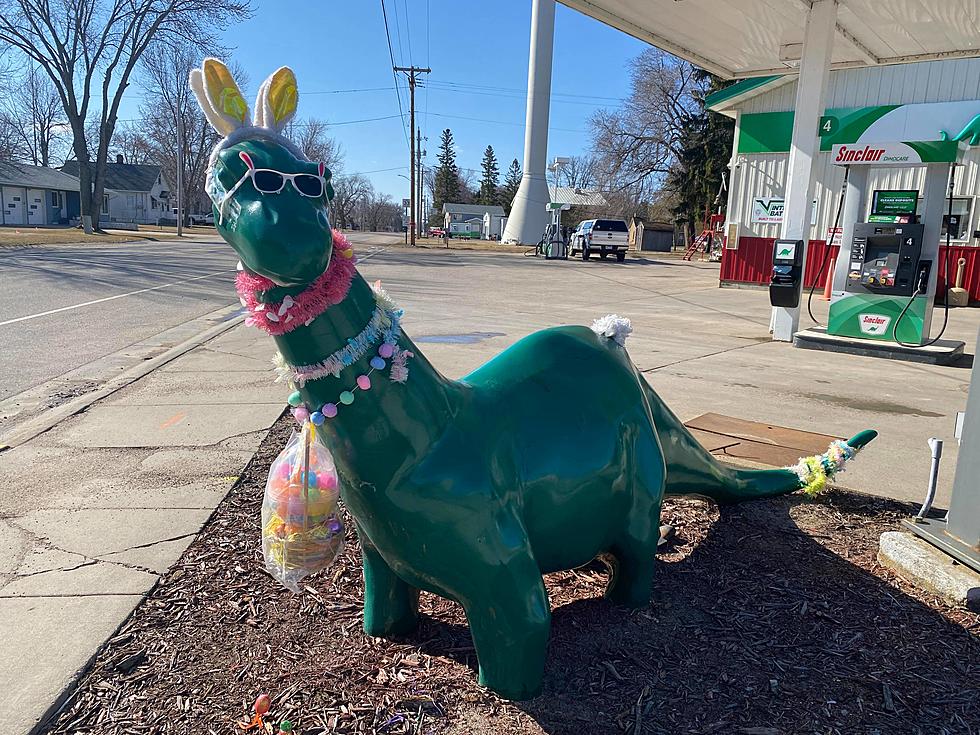 Who Needs an Easter Bunny? Grey Eagle Has an Easter Dinosaur
Abbey Minke
Hippity, hoppity this dinosaur in Grey Eagle is on his way to spread some Easter cheer.
I drive through Grey Eagle almost every weekend when I go home to see friends and family in Long Prairie, and this dinosaur that sits outside of the Sinclair gas station is always my favorite part of the drive.
He marks the last town before my final destination on the hour drive, and he is always dressed to the nines. Whether it is his Leprachaun gear for St. Patrick's Day, his blaze orange vest for deer hunting, or his fishing pole and a bucket hat for the summer months, this dino is always styling.
This previous weekend when I drove through he wasn't wearing anything and I thought that was kinda odd, but it didn't last long. By the time I was on my way home he was decked out in Easter gear. bunny ears, a tail, sunglasses, and even a basket full of eggs of his very own. The Sinclair dinosaur is ready for the big spring holiday this coming weekend.
Shoutout to the people who keep this dinosaur so well dressed all year long. It is such a bright spot for so many people traveling through the area, and it is a simple thing that is so appreciated. Happy Easter!
This Abandoned Church in Elmdale is a Mystery to Local Historians
12 things Minnesotans Will Never Get Tired Of
More From 98.1 Minnesota's New Country