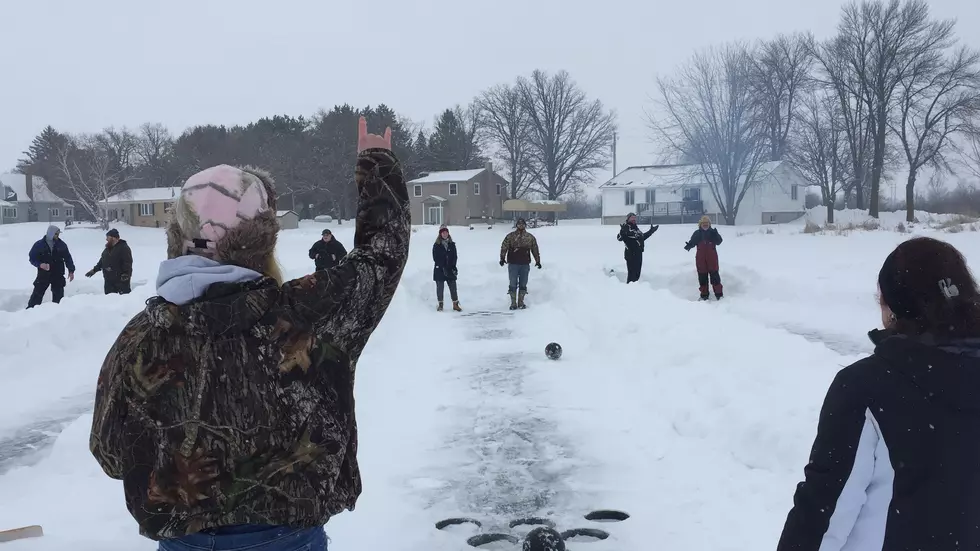 Go Bowling on a Frozen Lake This Weekend in Long Prairie
Nicholas Ambrosius
Ice Bowling is coming back to Lake Charlotte this weekend in Long Prairie thanks to the crew at the Thunder Lodge.
Ice Bowling is the ultimate Minnesota "yard" game that takes place on a frozen lake. It's like a combination of bean bags, and bowling, with a beer pong-style setup.
1. Lanes get plowed in the ice and 6 bowling ball size divots get augured into the ice to catch rolling balls.
2. Teams of two are made with one person per team standing on each end of the "alley"
3. The divots are cut in a bowling/pyramid pattern with 3 holes, 2 holes, and 1 hole, each worth different points. The three in the innermost row are worth one point if you get the ball in those holes, the middle two are worth three points, and the last hole is worth 5 points.
4. Each team has one throw with a bowling ball. Make it in the hole, get points. No canceling of points. The first one to 15 wins.
My friends and I went to this event back in 2019 and had an absolute blast. I remember it being super cold too, but we were having such a great time that it didn't bother us one bit.
Ice Bowling will be taking place on Lake Charlotte behind the Thunder Lodge in Long Prarie on Saturday, February 27th. Registration will be at 11 am. The weather is looking perfect for the event, sunny and upper 30's is what is predicted. Fresh air and fun sound like a great combo. Stay up to date with the latest on the event by following the Facebook event page.
Advice from Minnesotans to Southerners Experiencing Winter
More From 98.1 Minnesota's New Country