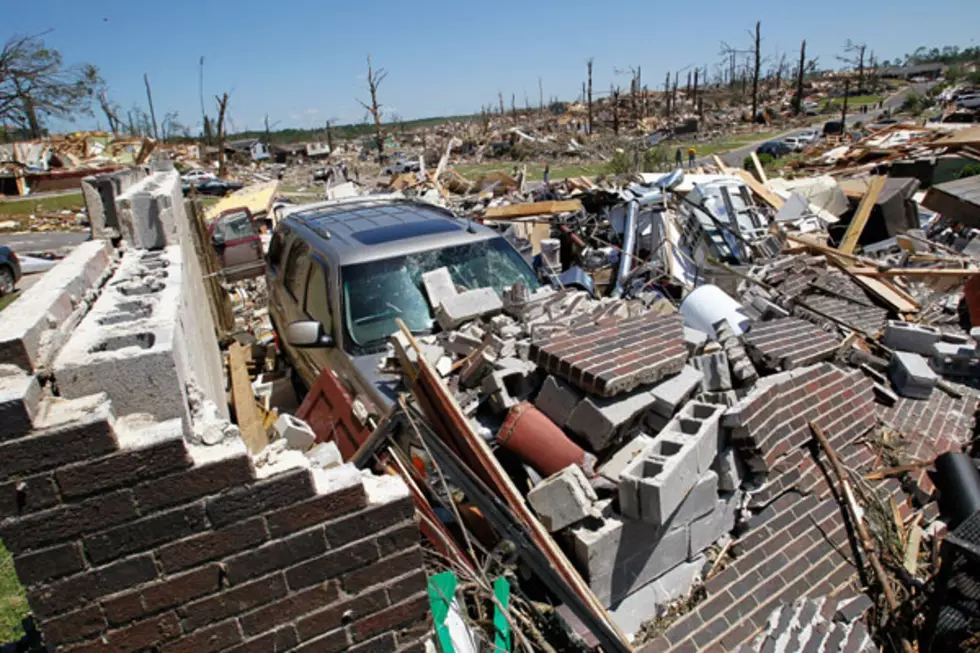 Alabama Continues To Recover From Deadliest Tornados In State's History
On Wednesday, April 25, my home state of Alabama was hit with the deadliest storms on record. The death toll is now over 300 in 7 states - over 200 in Alabama - and many are still missing. Millions of residents are still without power and thousands are now starting the clean up effort.
The storm system started moving into Alabama around 2:00am on Wednesday morning. By 1:30pm, I received a text message from my mom saying that they had been hit by a tornado, but everyone was safe. She said they were without power and no way to track the storms on TV. They had their radio and were listening to the coverage on the local station, but there were so many storms coming through, they couldn't keep a good update on where the storms were and where they were going.
I was getting ready to start my show here in St. Cloud, but quickly took to the internet and logged on to WHNT - Channel 19's website and luckily they were transmitting their storm coverage on the web. I was able to track the storms for my family and let them know what was going on.
I have seen a lot of storms in my life, but this one was completely different. Normally you will have one or two tornadoes in various areas moving from the West to the East. This storm front was producing tornadoes in the same line over and over and over. Every time one would pass my home town, another one was right behind it with rotation. I counted 9 different tornadoes that passed over the area my family was in.
I continued to text mom to tell her how long they had to get out of the basement, survey damage and get back in it before the next storm came through. These cells were about 15-30 minutes apart - again, nothing like I had ever seen before.
By the time I got home, the Weather Channel was showing live video from Tuscaloosa and Birmingham - an area about an hour south of my home town. They were showing a tornado that was a mile wide ripping through the north side of Birmingham and my heart almost stopped. I continued to text my mom updates from home and hoping and praying that my family was safe from these devastating storms.
By 9pm on Wednesday, the storms died down and my family was safe, but they couldn't tell just how much damage was done or what they would face over the next few days.
I spoke to my mom yesterday and she says that it is a nightmare in Alabama right now. They lost a ton of huge, old trees to the storms. There are housing developments that are just gone - about 10 miles from my childhood home and thousands of people across the state that have lost everything.
The tornadoes caused so much damage to the main power lines and power plant that basically the entire north quarter of Alabama is without power. They are saying it will be another 5 days before power will even begin to come back on. They can't buy anything from the local grocery stores that was refrigerated or frozen - due to spoilage. They can't get gasoline or diesel and are being told to head north to Tennessee for groceries, fuel and supplies.
Mom left her house yesterday and went almost an hour away from the house to find a gas station that still had gas. She filled her cans for the generator that she and my brother are sharing to keep the refrigerators cooled enough. She came through Fayeteville, TN and there was a line of cars trying to get into the Wal-Mart that ended up being around 20 miles long.
I have gotten many people emailing and asking how my family is and I appreciate everyone for their thoughts and prayers. I shared this with mom and she told me to please pass along that she appreciates the thoughts, but not to worry about our family as everyone is fine. Please keep those that were hit harder in your thoughts and prayers as they recover through this horrific devastation.
If you would like to support the recovery efforts in Alabama, please donate to the American Red Cross or you can call your donation in to 1-800-RED - CROSS. You can also text the word REDCROSS to 90999 and make a $10 donation that will show up on your cell phone bill.
Check out some of the pictures from around Alabama and you'll see just how devastating these storms were and why it is going to take months to recover from these storms.