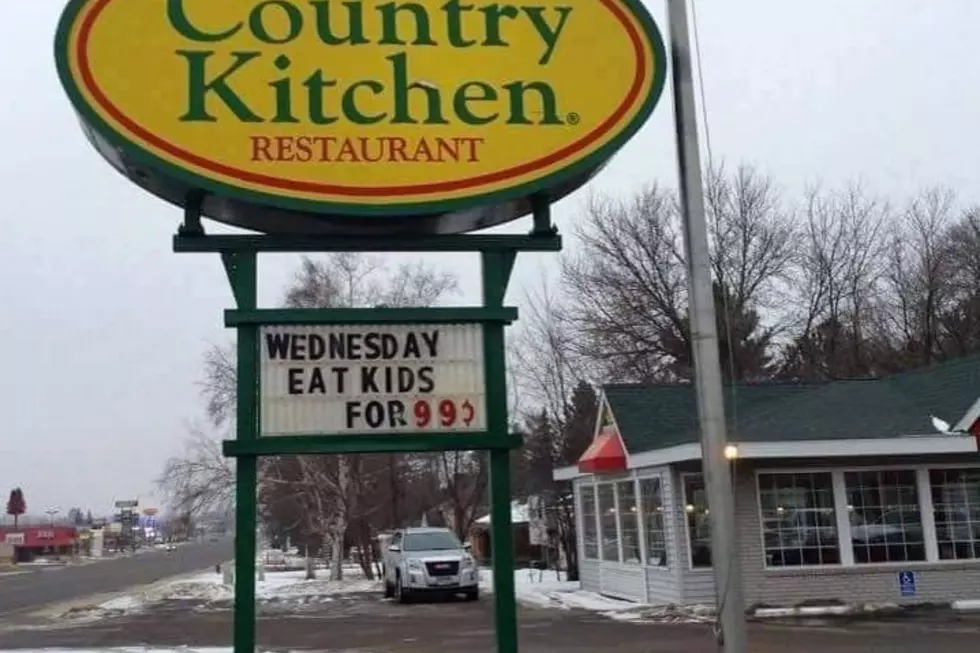 You Can Eat Kids at This Northern MN Restaurant! (Not Really)
u/Cuttlery via Reddit
A slip of words on the sign of a northern Minnesota restaurant is going viral online.
I was scrolling through Facebook yesterday and saw a photo that made me laugh. It was a shot of the sign outside a Country Kitchen restaurant that read "Wednesday eat kids 99c." According to the photo's caption, the photo was taken outside a Country Kitchen in Grand Rapids, MN.
They got different rules up in Grand Rapids... from r/minnesota
The photo has also been shared to the Minnesota thread of Reddit where it's gained over 120 comments, many of them jokes at the restaurant's expense. Here are some of our favorites:
"That's a damn good deal."
"It's hard to find a quality Toddler tot hot dish anywhere these days."
"Always thought their salisbury steak tasted off."
"But is it all the kids you can eat for 99 cents? Or is it 99 cents each?"
"It's probably mostly horse meat. Any good cut of kid is $20+"
"Do we get a choice in how the child is being prepared?"
"Hahaha, I've had good breakfasts there before. Hope the omelets were kid-free."
"And to think we're paying $3.99 in Duluth, definitely worth the drive!"
Jokes aside, some people on Reddit remembered visiting the same Country Kitchen. "Spent a lot of late nights there in high school," reflected one.
"I spent years hanging out at that country kitchen," commented another. "Every day after high school I would read the paper while I smoked cigarettes and drank coffee. Oh different times."
According to Country Kitchen's location finder, there are five restaurants in Minnesota: Grand Rapids, Hibbing, Bemidji, New Hope and Hutchinson. To our knowledge, children are not actually served at any of these locations.
Speaking of funny signs, remember this sign featuring a made-up Bible verse shared by a church in Mankato?
St. Cloud Restaurants That Should Be on Diners, Drive-Ins and Dives
More From 98.1 Minnesota's New Country