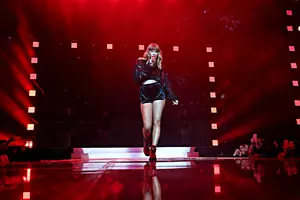 What Would You Do To Impress Taylor Swift?
Photo by Isabel Infantes/PA Images  Getty Images
DO YOU HAVE A CELEBRITY CRUSH?
So lots of people have celebrity crushes; but how far would you go to get the attention of your favorite celebrity?  Maybe send them a Tweet? Reach out to them on some form of social media? Become the biggest member of their fan club and buy front row seats to every concert, movie, or event they were a part of?
I know people who do this. That's not quite as far as this guy went. He thought he would get the attention of Taylor Swift by robbing a bank. That's right.
Bruce Rowley was arrested last week after he confessed to a bank robbery. But...He didn't rob the bank for himself. He says he robbed the bank and threw the money over the fence of Taylor Swift to try to woo her.
Bruce isn't the only one who has lost his mind over Taylor. A so called 'transient" climbed a seven foot wall outside her mansion in Beverly Hills on Sunday, and was supposedly shouting Taylor's name. She wasn't home.