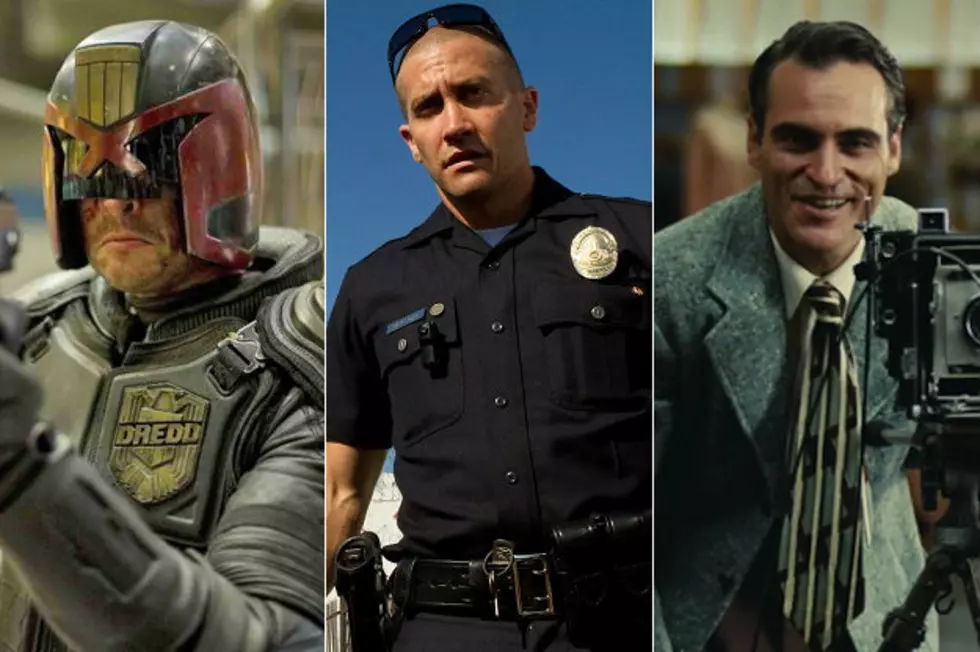 New Movie Releases — 'Dredd 3D,' 'End of Watch,' and 'The Master'
Lionsgate, Open Road Films, Weinstein Co.
Get ready for action this weekend! The latest movie releases include good cops, bad cops, and a spooky house at the end of the street.
'Dredd 3D' stars Karl Urban as a futuristic cop who acts as judge, jury and executioner out to take down a dangerous drug kingpin.
In 'End of Watch' Jake Gyllenhaal and Michael Pena play cops who pocket some money during a drug bust, putting them in the crosshairs of some dangerous criminals.
'House at the End of the Street' stars Jennifer Lawrence as a girl who moves into a new house with her mom and befriends the boy next door, whose sister murdered his whole family.
'The Master' expands wide this weekend. It stars Joaquin Phoenix and Philip Seymour Hoffman in the story of a brilliant man who begins his own religion and the drifter he tries to conform.
'Trouble With the Curve' has Clint Eastwood and Amy Adams in a baseball-themed tale of a daughter trying to reconnect with her father.
'The Perks of Being a Wallflower' gets a limited release this weekend. Based on the best-selling novel by Stephen Chbosky, this coming-of-age tale centers on Charlie and the new outcast friends he makes in high school who change his life forever.
Starring Karl Urban, Olivia Thirlby and Lena Headey
Starring Jake Gyllenhaal, Michael Pena and Anna Kendrick
'House at the End of the Street'
Directed by Mark Tonderai
Starring Jennifer Lawrence, Elisabeth Shue and Max Thieriot
Directed by Paul Thomas Anderson
Starring Joaquin Phoenix, Philip Seymour Hoffman and Amy Adams
Directed by Robert Lorenz
Starring Clint Eastwood, Amy Adams and Justin Timberlake
'The Perks of Being a Wallflower'
Directed by Stephen Chbosky
Starring Emma Watson, Logan Lerman and Ezra Miller