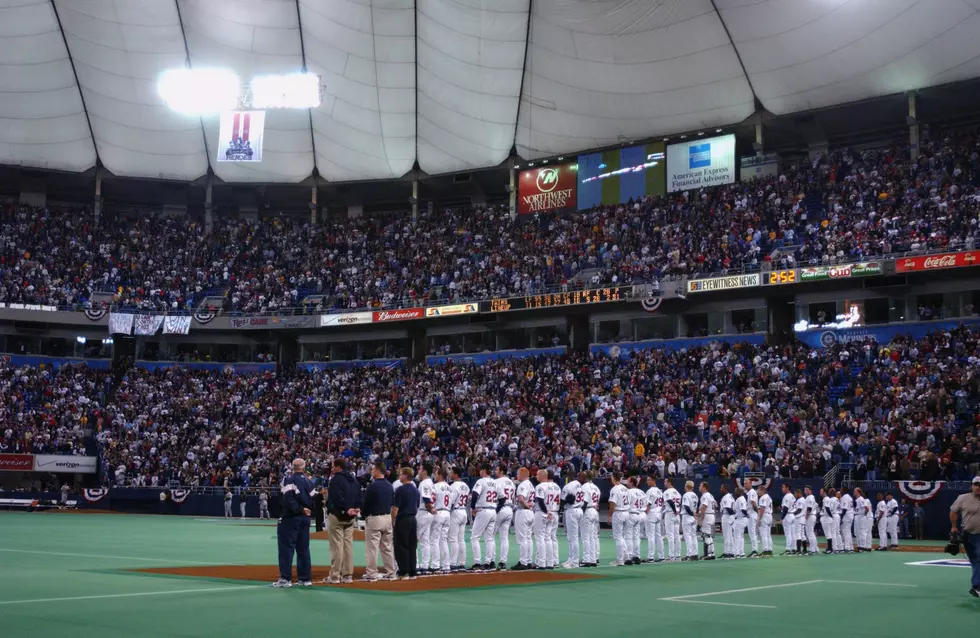 My Favorite Moment in Minnesota Sports History
Getty Images
Thirty-three years ago last night was my personal favorite moment in Minnesota sports history (not that we're overflowing with choices).
My college girlfriend, my parents, and I were at the Hubert H. Humphrey Metrodome in downtown Minneapolis for game seven of the 1987 World Series against the Saint Louis Cardinals.
In my lifetime, no Minnesota professional sports team had won a championship.
I was a lifelong North Stars fan, and despite some good runs in the eighties, including Stanley Cup Finals appearances -- nothing.
The Vikings were my first love, but we all know how that historically ends. I grew up with Tommy Kramer, but Dante Culpepper and Randy Moss were my favorite years -- and again, no championships.
As a side note, I am fortunate to have attended Minnesota Vikings games at four different home stadiums -- Metropolitan Stadium, the H.H.H. Metrodome, TCF Bank Stadium, and finally U.S. Bank Stadium; but alas, no titles.
When I was little, my dad took me to Saint Paul Fighting Saints hockey games at the Civic Center in downtown Saint Paul. He must have liked hockey fights.
I remembering following the Minnesota Kicks and Minnesota Strikers in soccer world. (I'm not sure I would have, but I was a player and a ref when I was a kid).
And growing up in the Twin Cities, and attending as a college student - I've always been a fan of the Golden Gophers. (My dad took me to football games as a kid, and I had basketball season tickets for four years as a student in the late 80s.) To be fair the Gophers have won seven national football championships. The first (1904) was four years before my grandmother was born. The last was when Lyndon B. Johnson was the President (1966). Row the boat.
Kent Hrbek, Gary Gaetti, Tom Brunansky, Kirby Puckett, Dan Gladden, Frank Viola, Bert Blyleven, Juan Berenguer, Jeff Reardon, Tom Kelly -- that's what I remember.
That's my only experience of a championship as a Minnesota sports fan. (I had moved out of state when the Twins did it again in 1991.)
Go Vikings! Go Gophers! Go Twins! Go Wild! Go Huskies! Go Timberwolves! (Go North Stars!)
Pete Hanson is on 98.1 Minnesota's New Country weekday mornings from 5:30 to 10:00.
State Welcome Signs Ranked Best to Worst
More From 98.1 Minnesota's New Country