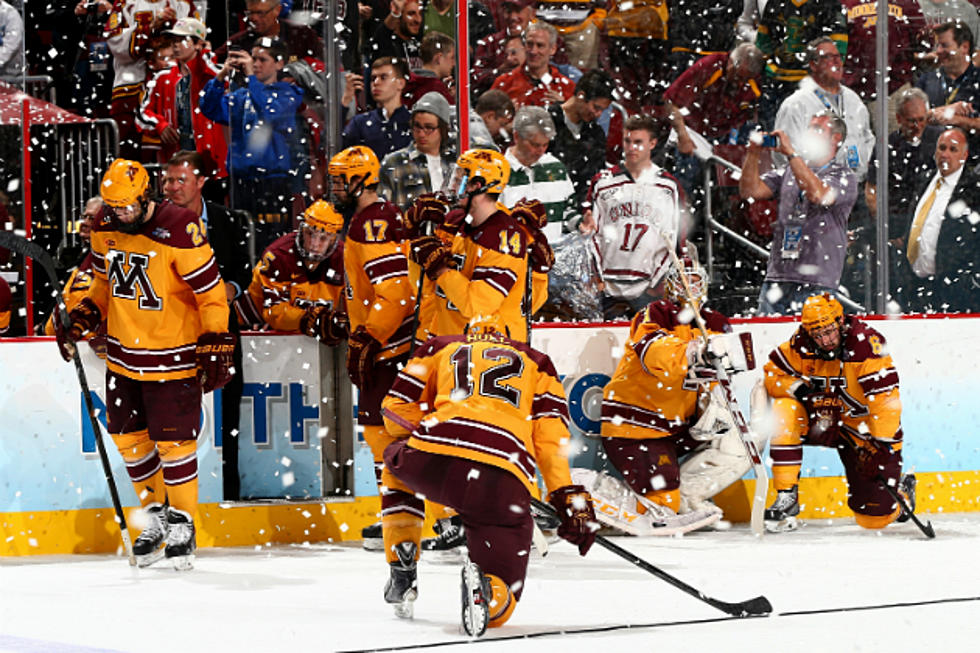 Minnesota Gophers Come Up Short Against Union in NCAA Title Game
Elsa, Getty Images
PHILADELPHIA - The Minnesota Gophers struggled on defense and were overpowered by the Union Dutchmen in the NCAA title game, falling 7-4.
Minnesota led off the scoring less than three minutes into the game with a goal from Justin Kloos. Union would tie the game later in the period with a goal from Shane Gostisbehere.
At 10:03 in the first, Sam Warning scored a ridiculous goal from a difficult angle to give the Gophers a 2-1 lead.
The Dutchmen then barraged the Gophers with three unanswered goals to finish the first. Mike Vecchione, Eli Lichtenwald and Daniel Ciampini all scored to make it 4-2 Union.
Early in the second period, the Gophers responded with a much needed goal from Taylor Cammarata to make it 4-3.
Union extended its lead in the third period with a goal from Max Novak to make it 5-3. The Gophers kept their hopes alive with a power play goal from Hudson Fasching to make it 5-4 with 3:40 remaining.
The Dutchmen would then dagger the Gophers with a goal from Keith Sullivan to make it 6-4 with just 1:22 remaining. Mat Bodie added an empty net goal for Union  to make it 7-4.
This is Union's first ever NCAA hockey championship. Minnesota was making its 12th championship game appearance, its first since it won the title game in 2003.