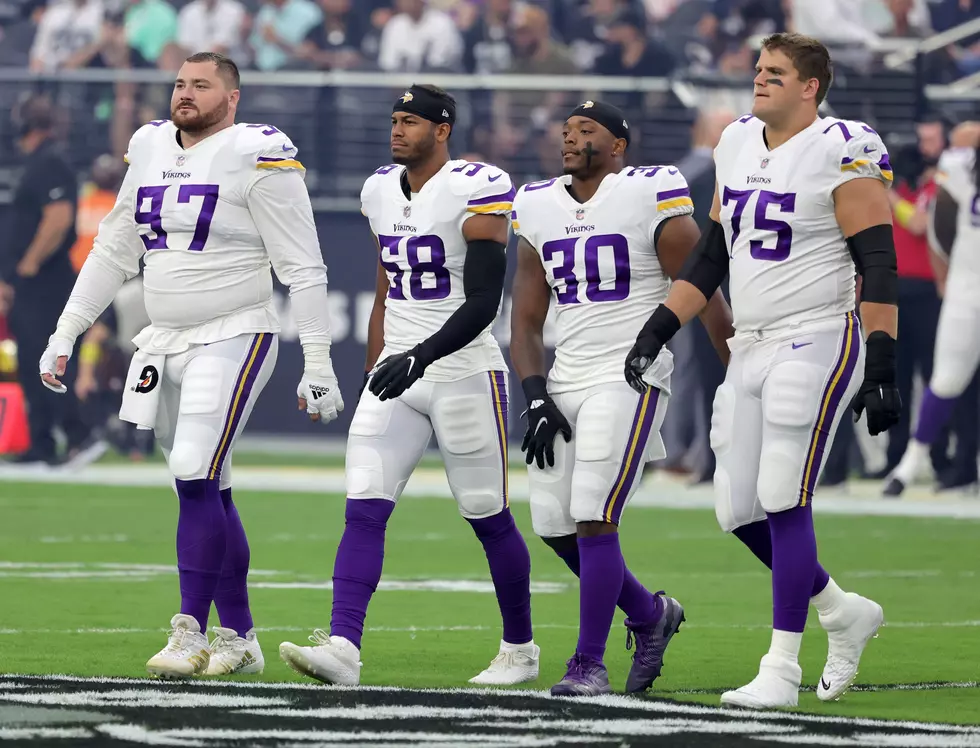 One Minnesota Viking Paying It Forward, to Show Support for Damar Hamlin
Photo by Ethan Miller/Getty Images
Who else was watching Monday Night Football between the Bills and Bengals, excited to watch what was sure to be a thrilling match. Only to be watching one the most traumatic scenes I've ever witnessed during an NFL game. Buffalo Bills Safety Damar Hamlin, had collapsed and medics were on the field administering CPR. As many have said and more will continue to say. The moment became more than a football game, it was  now a matter of life or death.
Tearing up at home watching and praying for this young man's life, I can't even imagine how those close to him had to feel and what they continue to be going through. Last report from the Buffalo Bills official Twitter page as of Thursday morning:
January 4, however, was the day where I connected the dots that current Minnesota Vikings Defensive Tackle Harrison Phillips #97, used to play with Hamlin. I was reminded he used to play for the Bills when he shared with FOX 9,
Damar was close to my locker and helped out with my foundation. We are a brotherhood. It touches very, very hard for us, we compete like hell when we're out there against each other, but that is a brother that I look across when I look across the line of scrimmage. I'm loving all the support and prayers. I believe in the power of prayer heavily, and I believe that's helping move the needle.
Like many, Phillips also tried to figure out what he could do to help. After reaching out to many, for two days Tuesday and Wednesday, he made sure Hamlin's family, any Bills' staff, and health care workers at the hospital with Damar was fed dinner.
But he's not stopping at a couple of meals, he shared on his Harrisons Playmaker's site, that:
we are collecting donations to today's pay-it-forward as well as a future Playmaker pay-it-forward event solely in Damar's honor.
His paying it forward, reminds me that even little details can make a difference and are greatly appreciated. There are many out there suffering and in critical conditions all over this country and all over this world. Monday was just a reminder that love and kindness is what we always need more of and not hate.
Prayers and love to anyone and everyone who needs it as well as Damar Hamlin and if you get the chance to pay-it-forward do it. But if you're trying to figure out what to do, it doesn't have to be the biggest gesture or donation in the world. Thank you to Harrison Philips for reminding me that every little detail and help counts.
See full story:
15 Ways You Can Help People in Ukraine Right Now
As Americans watch events unfold in Ukraine, many wonder how they can help. Below is a list of organizations responding to the crisis in Ukraine along with information on how you can support their various missions.
TACKLE THESE: Check Out the Best Uniforms In Each NFL Team's History
12 Items You Didn't Know Were Invented In MN (And A Few You Did)
More From 98.1 Minnesota's New Country