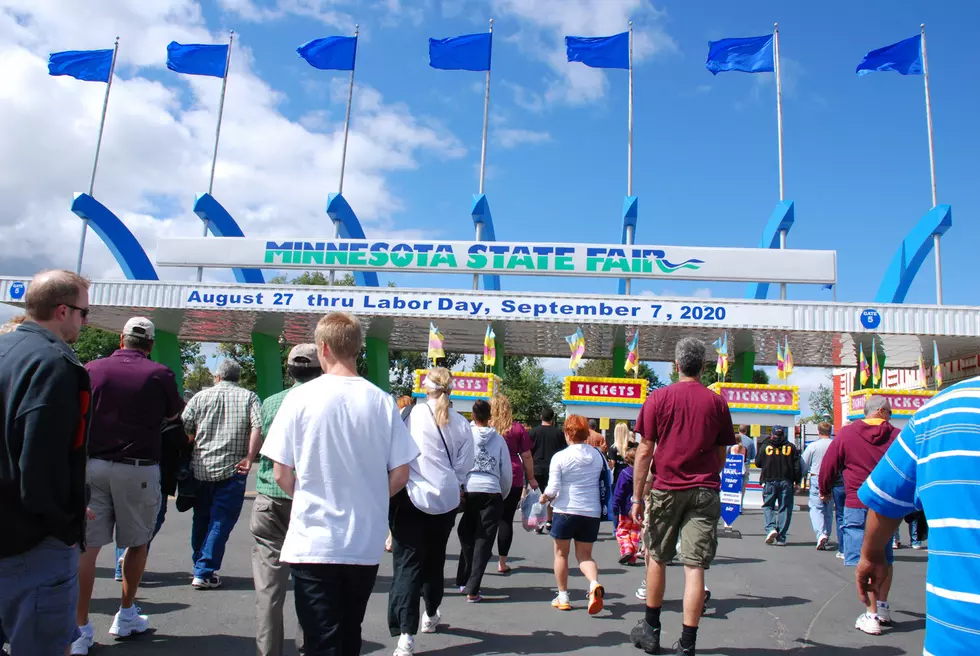 7 Minnesota Festivals You Can't Miss in Summer 2020
Minnesota State Fair
Sure we're known for being the Land of 10,000 Lakes, but we've got some amazing festivals too (just not 10,000 of them).
#1 - Minnesota State Fair - Frequently ranked as the best fair in America, the 'Great Minnesota Get Together' is second only to Texas in attendance, and that's likely only because the Texas fair runs more days. Last Year the MN event topped 2-million visitors. Food, entertainment, and attractions galore. If you've been, you get it. If you haven't, no words I can write would do it justice. Get there in 2020 from August 27- September 7. More info here!
#2 - Lakes Jam - Big artists, the perfect facility, and great artists -- that's what comes to mind when I think about Lakes Jam. Just a hop, skip, and a jump up Highway 10 will get you two days of country, followed by a day of rock (featuring my favorite hairband of the 80s: Ratt). June 25-27 will not disappoint in 2020 at Brainerd International Raceway. (I'm a little bit country and a whole lotta rock 'n roll.) More info & tix here.
#3 - Renaissance Festival - The 2020 MN Renaissance Festival will run Weekends & Labor Day from August 22nd through October 4th. Celebrating its 49th year, it's one of the longest running Renaissance Festivals in the country (because it's awesome). King Henry and his royal court invite one and all to his 16th Century European village featuring 16 stages of live entertainment, and over 250 artisans. More info & tix here.
#4 - Little Falls Arts & Crafts Fair - I went for the first time six years ago, and I'll never miss it. After the State Fair, this is my favorite Minnesota event (and it may surprise you, but I'm not an artsy-crafty guy). Literally, all of the heart of Little Falls is transformed into this annual extravaganza featuring over 600 artists and vendors. I'm not alone, as 100,000 other Minnesotans show up for the 2-day event September 12th & 13th. Get the deets here.
#5- Stone Arch Bridge Festival - The annual Stone Arch Bridge festival spans the Mississippi River in downtown Minneapolis on Father's Day weekend June 19-21. Over 200 artists will show off the best of food, art, and live music over the three day celebration. More than 100,000 people will celebrate again in 2020. Grab a Stone Arch Beer Sampler from various local breweries while you're there! More info here!
#6 - Bayfront Blues Festival - 2020 will be the 32nd time Duluth's Bayfront Park comes alive for the BBF, drawing over 20,000 visitors to one of the coolest settings in Minnesota for an outdoor 3-day music jam. The Bayfront Blues Festival has been showcasing a who's who in the blues and rock including Buddy Guy, Big Head Todd & The Monsters, Jonny Lang, Blues Traveler, Little Richard, and 500 other artists. Get the rest here.
#7 - Uptown Art Fair - Gotta see it to believe it! The fair began in 1964 as a way to increase awareness of the arts while raising money for Uptown projects. Aside from showcasing amazing art, the fair is a celebration of the hip, refreshingly unconventional Uptown community. The Uptown Art Fair is a juried arts festival with a reputation as one of the most exceptional art fairs in the United States. 380,000+ visitors agree – making the Uptown Art Fair the 2nd most attended event in Minnesota (only second to the State Fair). 2020's fair runs August 7-9. Get more info here.
MY BONUS - Pierz Freedom Fest - Of course there are bigger festivals and events in Minnesota, but there aren't many I enjoy more than this one. One day at the Genola Ball Fields in Pierz, featuring small-town hospitality, friends & neighbors, guaranteed great summer weather, plenty of food & cold beer, and an annual music live-up that steals the show. The July 11, 2020 stage will feature the Lindsay Ell and Little Texas, with the headliner announcement coming soon. Get your tickets here now.
The snow is still here, but the temperatures are slowly warming -- and soon it will be time to get back outside and spend time with our Minnesota friends and neighbors.
Pete Hanson is on 98.1 Minnesota's New Country weekday mornings from 5:30 to 10:00.