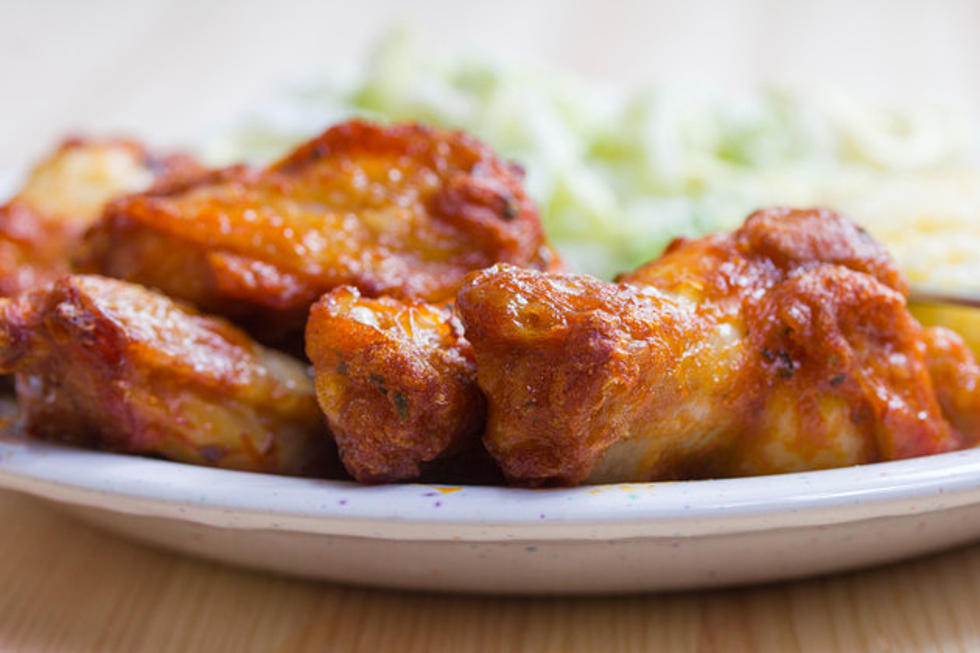 Top 10 Best Chicken Wings in Minnesota
Teka77/ThinkStock
At our home we love our chicken wings. We love checking new wing places out. I have even been attempting to make my own just the way I like them.
My husband bought me an air fryer for Christmas and I couldn't wait to pick up wings from Costco and try them out in my air fryer. My friend, Kat, has an air fryer and she made wings one night that were to die for. A little bit of olive oil and tossed in Bourbon Brown Sugar seasoning. They were crispy and delicious.
When it comes to chicken wings in Minnesota there is quite a variety of options like classic buffalo wings, crispy Korean wings, spicy hot sauces, or smokey BBQ. All over this state there are great places to go to get delicious wings.
Enter your number to get our free mobile app
We all have our favorite spots for wings in St Cloud we typically go to Buffalo Wild Wings, Lily's Wings (which is #9 on the list), and Upper Deck in Sartell. Let's look at the statewide report of the top 10 places wing lovers need to check out according to bigseventravel.com. See if you agree.
Top 10 Best Chicken Wings In Minnesota
1. D-Spot – Oakdale
D-Spot  comes up quite a bit when asking people their favorite spot to grab some great wings. They make everything from scratch here, resulting in chicken wings full of flavor. Top points for their creative sauces too, which includes a lavender, peppercorn and mustard vinegar or chocolate sauces with crushed nuts and peanut butter.
2. Wing Joint – Blaine
This no-frills counter service joint in Blaine is best known for its hickory smoked wings.  Choose the smoked wings that come slathers in a BBQ sauce, or go for their crispy seasoned wings that are battered, fried, buttered and tossed in their famous seasoning. They also have buffalo wings too.
3. Eli's Food & Cocktails – Minneapolis
This classy yet laid back restaurant and bar in downtown Minneapolis is popular for late night eats and its great cocktails, as well as their delicious wings. The perfect start to any meal, these beauties come in two styles: honey & soy with a Sriracha hot sauce, or classic buffalo with Black River blue cheese dressing and crunchy celery.
4. Red Rabbit – St. Paul
This cosy, authentic Italian restaurant is prime date night spot, with a menu full of creamy pastas, woodfired pizza and classic cocktails. If you don't mind getting your hands messy, you need to order the chicken wings here. They're cooked in the wood-burning oven for a smokey flavour and come with a creamy parmesan dip.
5. Serum's Good Time Emporium – Anoka
You're guaranteed to a have a good time here – with food this good, how can you not? The wings here a bestseller, and they serve over one million buffalo wings a year. That is a lot of wings! There's 22 tasty sauces to choose from, including traditional buffalo or lemon pepper.
6. Runyon's – Minneapolis
Runyon's is an iconic spot in Minnesota when it comes to chicken wings, with a 35-year strong recipe that's still killing it. The wings come slathered in a little bit spicy and tangy buffalo sauce that coats the crispy wings to perfection. The side of their house made blue cheese dip finishes it all off.
7. Tracy's Saloon & Eatery – Minneapolis
Meaty, tender and fried for a crispy skin that tastes divine, these wings are superb. But enough about those droolworthy wings, what about the wing sauces? You can take your pick from Siracha-Cilantro-Lime, Buffalo, Extra Hot, or BBQ, as well as dry rubs such as
Berbere, Cajun, Jerk, or Tracy's Seasoning.
8. Lat14 Asian Eatery – Golden Valley
For something different, come to this stylish Asian eatery that has a unique menu of Thai, Vietnamese, Lao, Cambodian & Filipino dishes. It's all about their signature basil wings here, which have a crisp and light tempura batter, with Thai basil, jalapeños, and their signature dry rub that adds a zesty and umami flavour to each wing.
9. Lily's Wings – St. Cloud
Here is one I actually haven been to right here in St. Cloud. Lily's serves up a delicious menu of sandwiches, burgers and wings, all made with 'Southern flair'. The wings here are big, with each one plump and juicy. How can you beat fried to perfection wings with your choice of 17 handmade sauces.
10. Mackenzie Pub – Minneapolis
They have one of the largest beer selections in the city, Mackenzie Pub. Beer and wings seem to be a perfect match. The house-smoked wings are tossed in a blueberry BBQ sauce for the perfect combo of sweet and savoury.
Here are 10 places you need to add to your chicken wing bucket list. I have added a few more to mine. There were a few places on the list I have been to but didn't have wings when I was there. Might just have to try them next time I am there.
More From 98.1 Minnesota's New Country