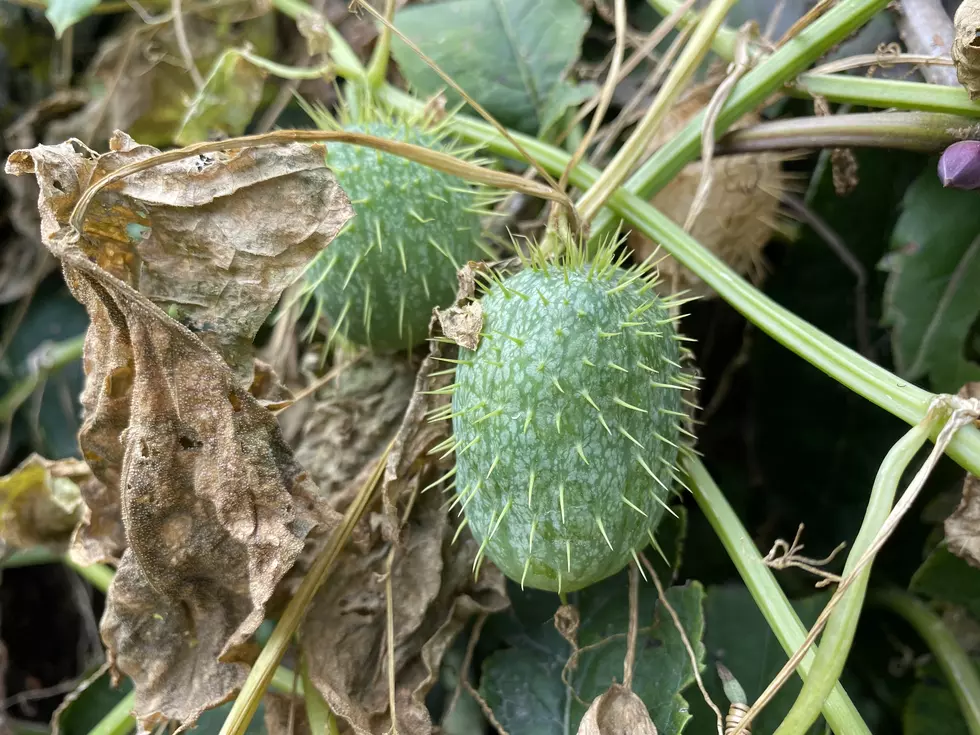 This Wild Plant in Minnesota Serves No Real Purpose
Abbey Minke
This is a wild cucumber, or Echinocystis lobata.
This time of year they are at their peak form, and not hard to come by. These plants tend to take over everything, but yet are still somehow still don't do much damage. Their vines can become so huge and overbearing they can take over entire hillsides.
Growing up we had a hill in our yard that was covered with them, and my sister and I would always go pluck all the "cucumbers" off the vines and then start throwing them at each other. It was all fun and games until one of the spines hit the face. Then the fun was over.
I came across a huge batch of these at Meadowlark Country Club in Melrose last weekend and the thought occurred to me that I didn't know what purpose these plants actually served, other than being something to toss at a sibling.
The fruit pod looks a little like a spiny watermelon. The container turns papery brown as seeds ripen and persists through winter. When ripe, the bottom of the pod opens up, dropping the seed to the ground.
The fruit is NOT edible, but the tender leaves and tips ARE and they taste great stir-fried. Many Asian people living here eat them and even sell them, as they resemble Ivy Gourd(Tindora)plants in appearance and taste. You can sometimes catch hawkers selling them at the Como Market farmer's market. In fact, I just had some stir-fried with a little garlic and salt last week and it was euphoric.
User Duane in Osakis shared that he too would use the fruit pods for make-shift fall snowball fights. Glad to know that they do serve some purpose, even if it isn't an official one.
Enter your number to get our free mobile app
The Sauk Rapids Bridge is Great For Fall Color Spotting
More From 98.1 Minnesota's New Country