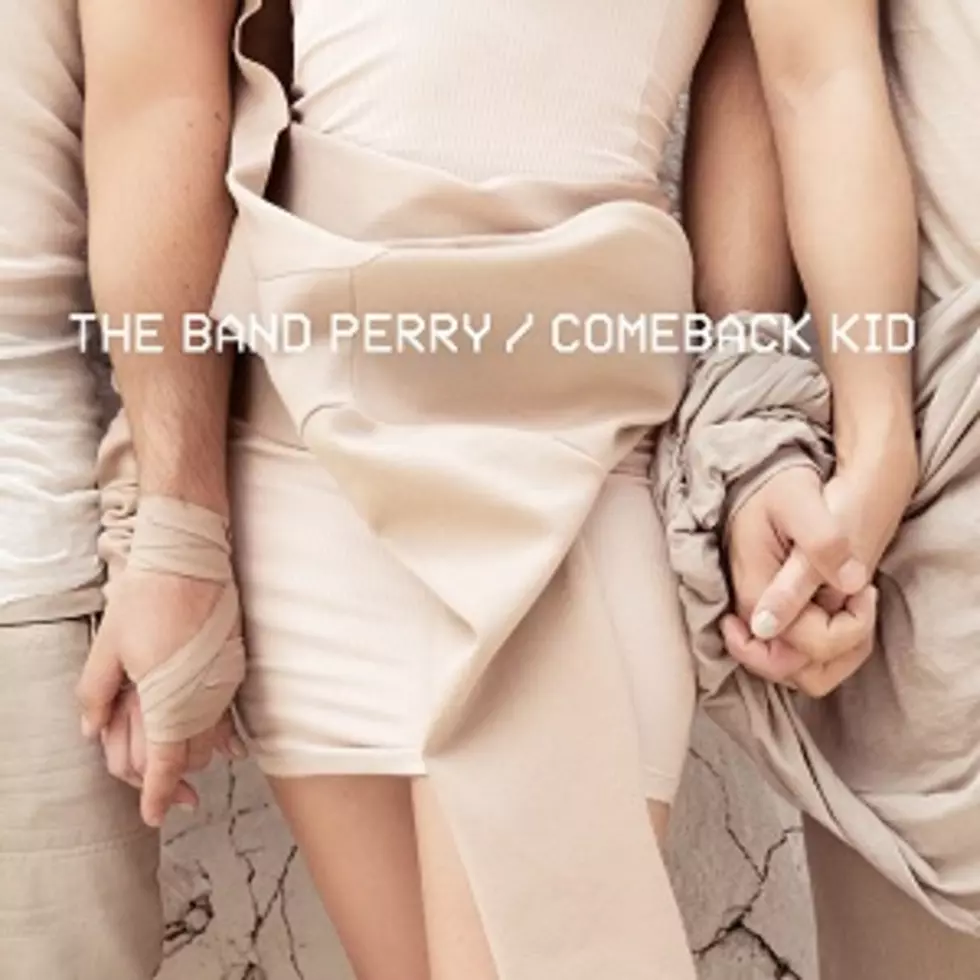 The Band Perry Share Brand-New Single, 'Comeback Kid' [LISTEN]
Mercury Nashville / Interscope
With their brand-new single, "Comeback Kid," the Band Perry are out to prove their critics wrong -- and they're not mincing words. Although the song's lyrics are broadly applicable to, as Kimberly Perry says, "anybody who's walked through a challenging time and come out on the other side of it better and wiser and so much stronger," there are a number of subtle references to the sibling trio's past to help listeners realize that this time, it's personal.
Written by Kimberly Perry and her brothers Reid and Neil Perry, "Comeback Kid" is TBP's first single as part of their new joint deal with Interscope Records and Universal Music Nashville; the song was co-produced by the Perry siblings and Benny Cassette. The track is soft -- and perhaps more "country" than expected, given the trio's poppier recent work -- and finds Kimberly Perry using the breathier end of her vocal range; additionally, a prominent mandolin line is featured in the song's chorus.
"I'm a comeback kid / Don't know why bad things happen, but they did / I don't think I deserve the hurt I get / But I'm made for it / It's not the end, no, not the end," the chorus of "Comeback Kid" goes. "I'm a comeback kid / Down for a minute, I'll get up again / Looks like I'm breaking, but it's just a bend / It's not over yet, 'cause in the end / I'mma come back / I'm a comeback kid."
As "Comeback Kid" progresses, there's more TBP-specific references to dissect: In the second verse, Kimberly Perry sings, "I'm gonna finish what I started now / You interrupted me with all your doubts / How dare you forget where I started out" before sampling a bit of the band's first single, "If I Die Young." Later on in the bridge, lyrics include "I believe it's been a year / The worst one I've ever lived / I believe I'm better now than I have ever been / I believe that ever since everything went south / I believe in every word that ever came out of my mouth / I believe you missed me but / You don't have to miss me 'cause / I'm not leaving again."
In August of 2015 -- one year ago -- TBP released a pop-heavy single, "Live Forever," which didn't fare particularly well at country radio. In October, the band announced a new album, Heart + Beat, but the project has yet to come to fruition. Then, after addressing breakup rumors in February, the Band Perry announced in March that they and their former record company, Big Machine Label Group, had parted ways.
"We know there have been a lot of voices out there trying to tell their version of our story. We've chosen to remain quiet until now because it was important to us that our actions speak louder than our words," Kimberly Perry says, "but now it's our turn to tell our own story [with "Comeback Kid."]"
Readers can press play below to hear "Comeback Kid;" the single is also available for download on iTunes. On their Facebook page, TBP are participating in a 24-hour-long live stream to celebrate the release of their new tune.
Listen to the Band Perry's "Comeback Kid"
See the Band Perry + More Country Stars in Childhood Photos
How Well Do You REALLY Know the Band Perry?
More From 98.1 Minnesota's New Country