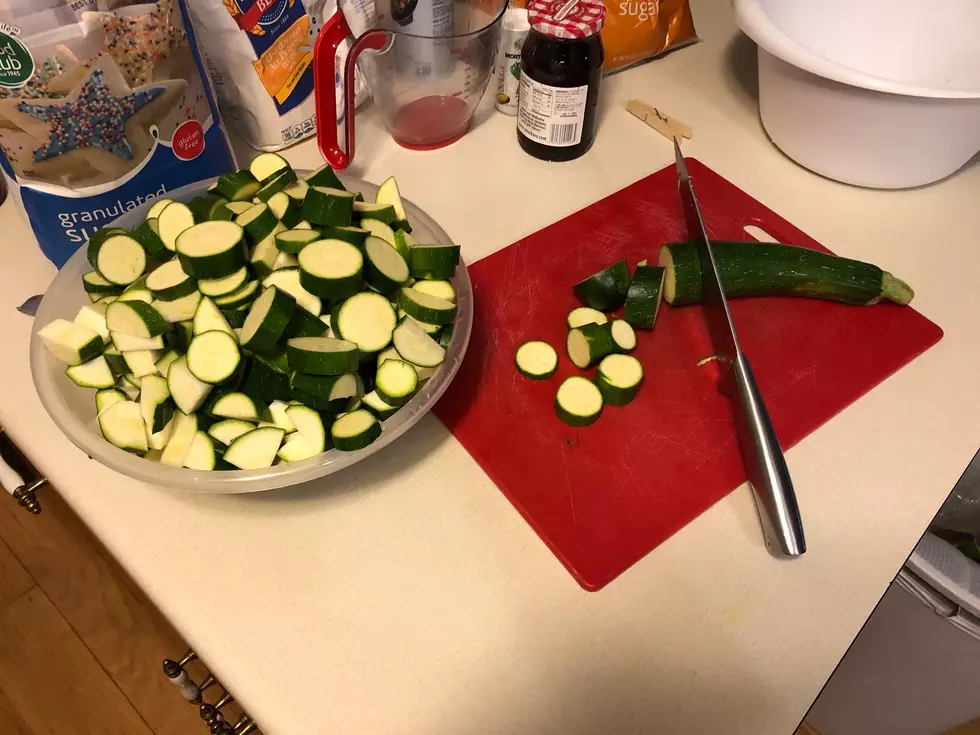 Sharing the Love From My Parents' Garden [RECIPES]
Photo by Kelly Cordes
MAKING THE MOST OF MOM & DADS GARDEN GOODS
My parents have the most beautiful veggie garden. It's perfect enough where they should have their own television show. It SO great, that there's no way they can eat, share or bake all of the great veggies that come out of the garden.
My parents know that I LOVE zucchini! I love it grilled, fried, and in bread. Since baking is one of my favorite things to do; I spent a few hours of my Labor Day Weekend in a labor of love for me fellow coworkers. I decided to  make a basket of a variety of Zucchini bread, in mini containers to share with my work family when I get back from this great 3 day vacation!
You might have a favorite recipe, but these recipes were so easy, I just doubled them both and within two hours I had 20 mini loaves to share! I hope you enjoy the recipes. They are SO delicious!
Moms Zucchini Bread Recipe
3 cups all-purpose flour
1 teaspoon salt
1 teaspoon baking soda
1 teaspoon baking powder
1 tablespoon ground cinnamon
3 eggs
1 cup vegetable oil
2 1/4 cups white sugar
3 teaspoons vanilla extract
2 cups grated zucchini
DirectionsSpray pans. Preheat oven to 325 degrees.
Sift flour, salt, baking powder, soda, and cinnamon together in a bowl.
Beat eggs, oil, vanilla, and sugar together in a large bowl then add sifted ingredients to the creamed mixture, and beat well. Stir in zucchini  until well combined. Pour batter into prepared pans.
Bake for 40 to 60 minutes.
CHOCOLATE ZUCCHINI BREAD RECIPE - YUM!
1 cup all-purpose flour
1/2 cup unsweetened cocoa
1 teaspoon baking soda
1/2 teaspoon salt
2 eggs
1/4 cup butter
1/4 cup vegetable oil
3/4 cup sugar
1 teaspoon pure vanilla extract
1 1/2 cups packed shredded zucchini
chocolate chips for sprinkles after baking
Preheat your oven to 350°F. Grease pans with nonstick cooking spray.
Mix together the flour, cocoa powder, baking soda, and salt.
In a large bowl, mix the eggs, butter, oil, vanilla, and sugar...then stir in zucchini.
Stir the dry ingredients into the wet ingredients.
Pour batter into prepared pan. Bake for 40-60 minutes.
Once bread is ready to remove from oven, let cool slightly and then sprinkle the chips on top of the bread and let finish cooling.
Once cool, package the zucchini breads and deliver to your friends and family! Enjoy!