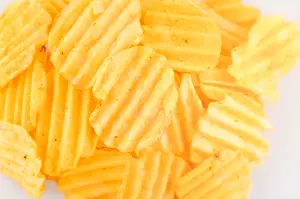 Munchie Minnesota: We Are Potato Chip Country
Thinkstock
MINNESOTA IS POTATO CHIP COUNTRY
Did you realize that Minnesota is truly the King when it comes to potato chip manufacturing companies?  Just look at all the brands that are made right here in our state! I'm so proud.
Barrel O Fun manufacturing is located in  Perham, Minnesota. They don't only delight our salty tastebuds with tasty varieties of potato chips, they also make popcorns, cheeseballs, one of my favorites, and so much more. There's a Barrel O Fun every time you open a delicious bag.
Firto Lay's manufacturing facility is located in Hutchinson Minnesota, and makes some of my families absolute favorites. Dorito's? Are you kidding? Possibly the best chip creation since chips began. But if you ask my son Tanner, he'll chow down a bag of Sour Cream and Onion potato chips in one setting.
Old Dutch is located in Mankato and they've been in business over 80 years. Some of my fondest memories are having family get togethers when I was little and seeing the big boxes of Old Dutch potato chips sitting on the picnic table.
WHAT ARE YOUR FAVORITE CHIPS?
Let us know. What chips will you be eating today to celebrate National Potato Chip day? Send your comments to Kelly@minnesotasnewcountry.com.