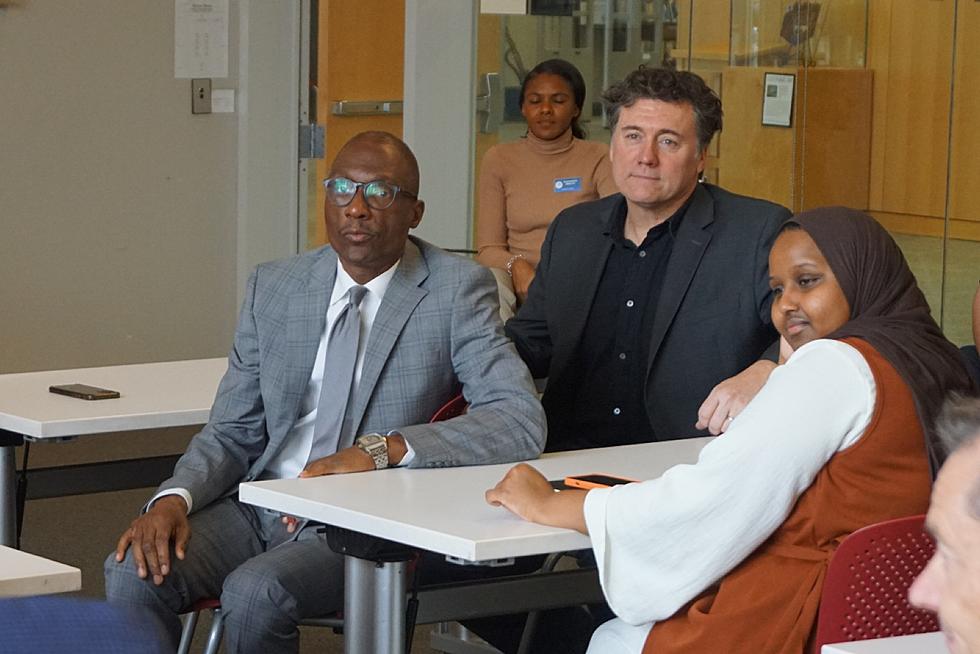 MN Senate President Champion in St. Cloud for Investment Review
Senator Champion and Putnam listen at a session in St. Cloud. Photo: Jeff McMahon - WJON
ST. CLOUD (WJON News) - Minnesota Senate President Bobby Joe Champion was in St. Cloud Tuesday to highlight the impacts of state investments in the St. Cloud area.
St. Cloud Senator Aric Putnam was on hand as well to welcome the chairman of the Senate Jobs and Economic Development committee and help promote the region's incentives.
He says this is another opportunity to highlight what's working in Central Minnesota.
There's a story that circulates in St. Paul, that St. Paul legislators don't care about greater Minnesota, and don't work for greater Minnesota. But the truth is right here, and it's also in the bill that we passed this session that is benefiting so many of us in this room in helping us benefit our neighbors.
Several leaders were able to talk candidly with Senator Champion about their projects, and the successes they've noticed since receiving extra state funding.
Representatives included:
CentraCare
The Central Minnesota Community Empowerment Center
The Greater St. Cloud Development Corporation
Career Solutions
The Boys and Girls Club
Big Brothers – Big Sisters of Central Minnesota
The Senate Jobs and Economic Development Committee made several investments in the St. Cloud area during the last legislative session, and Senator Champion says the momentum will continue moving forward in the upcoming session.
We have to continue to build upon those successes. And the only way we can do that is by talking to each other and really working together and finding ways, and creative ways, to move us forward.
Many of the guests indicated a desire to work together to find solutions to common problems in Central Minnesota, including child care, employment, housing, and career training.
READ RELATED ARTICLES
Come Visit St. Martin, Minnesota with us in Pictures
More From 98.1 Minnesota's New Country