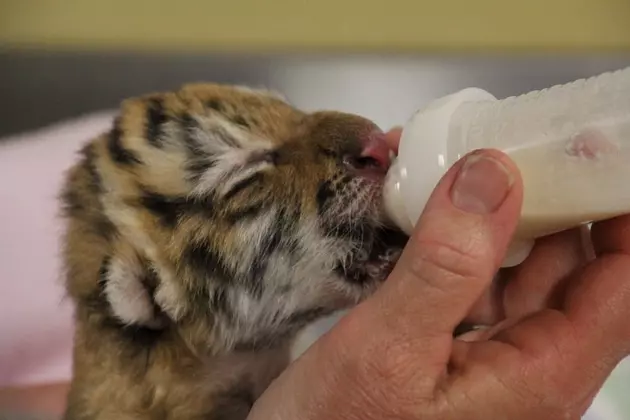 Minnesota Zoo Welcomes Endangered Tiger Cub [VIDEO]
Minnesota Zoo via Twitter
Everyone is freaking out about April the Giraffe's baby bull calf over at Animal Adventure Park - but now a new family member has been welcomed a lot closer to home at the Minnesota Zoo.
Last Wednesday (April 26th) the Minnesota Zoo welcomed a female Amur tiger cub! Amur tigers are highly endangered, mainly due to poaching. After losing a mature adult male Amur tiger almost exactly a year ago, the staff is hand feeding the new cub behind the scenes. The staff have taken over care for the cub, after the mother tiger showed signs of neglect.
UPDATE: Sundari, the mother of the newborn cub, has shown great signs to raising the baby herself! The Minnesota Zoo has reunited the pair and are closely monitoring the situation to make sure the cub is being well taken care of.
Following the success of April the Giraffe's live webcam, the Minnesota Zoo plans on doing the same thing in the near future. However, to hold us all over, check out this video the zoo gave us of the new mother and her cub!
More From 98.1 Minnesota's New Country