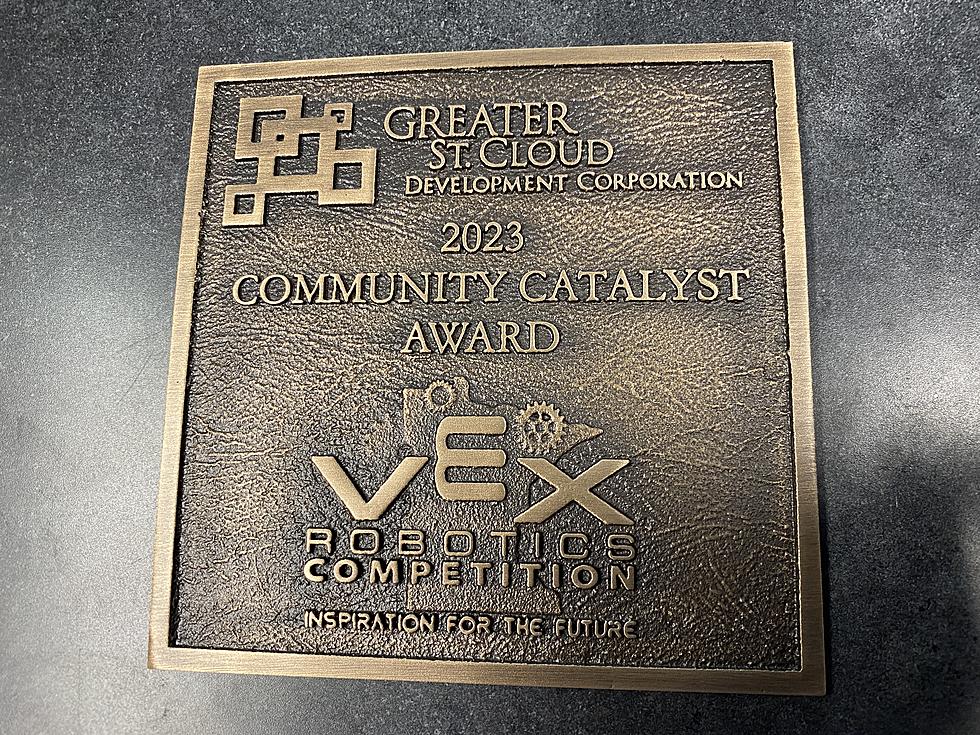 Minnesota VEX Robotics State Championship To Be Held At Rivers Edge in St Cloud
Photo by Kelly Cordes
CONGRATULATIONS SCTCC!
St. Cloud Technical and Community College has just received an amazing award. Aaron Barker, who heads up the program, stopped by last week for an interview, and on his way to our studios, had just received this honor from the Greater St. Cloud Development Corporation.  St. Cloud Technical and Community College received this plaque for the 2023 Community Catalyst Award for VEX Robotics Competition.
IN THE BEGINNING
It was about 10 years ago, when I first moved back to Minnesota, that I met Aaron Barker, who had just started the VEX Robotics program a few years earlier. In the beginning, there were approximately 45 teams in Minnesota when it started here in 2011, and now that number has grown to over 400 in Minnesota.
WHAT IS VEX ROBOTICS?
Vex Robotics is a competition-based program that is presented by the Robotics Education and Competition Foundation, for students in Elementary School all the way through college. Today, there are over 21,000 teams from over 50 countries that compete each season. Students in grades 3-12 and College work on designing, building, and programming robots to compete in a game challenge that changes every year.
You can listen to my interview with Aaron Barker by clicking on the player below.
VEX CHAMPIONSHIPS COMING TO ST CLOUD
This year, the 13th Annual Minnesota VEX  Robotics State Championship is going to be held at the St. Cloud River's Edge Convention Center from March 2nd through March 4th. There will be 200 teams from across the state represented, and they will compete over the weekend, and then of those, 43 will qualify for the VEX robotics World Championship in Dallas Texas.
MORE ABOUT THE PROGRAM
VEX Robotics is a program for all students to be involved in, regardless of their background, culture, abilities, limitations, and restrictions. 44% of VEX participants worldwide are female. Students on VEX teams learn a combination of both hard and soft skills, which are crucial if they want to enter the workforce. After school, many of the participants choose to go to college to major in and eventually obtain a job in STEM fields, which helps to close the skilled worker gap many industries are currently experiencing.
VEX Robotics is the fastest-growing extra-curricular or club activity in schools across Minnesota.
10 Hilarious Bad Google Reviews of Central MN Landmarks
20 of the Hardest Lake Names to Pronounce in Minnesota
Here's a Look at Olympic Athletes from Central Minnesota
More From 98.1 Minnesota's New Country