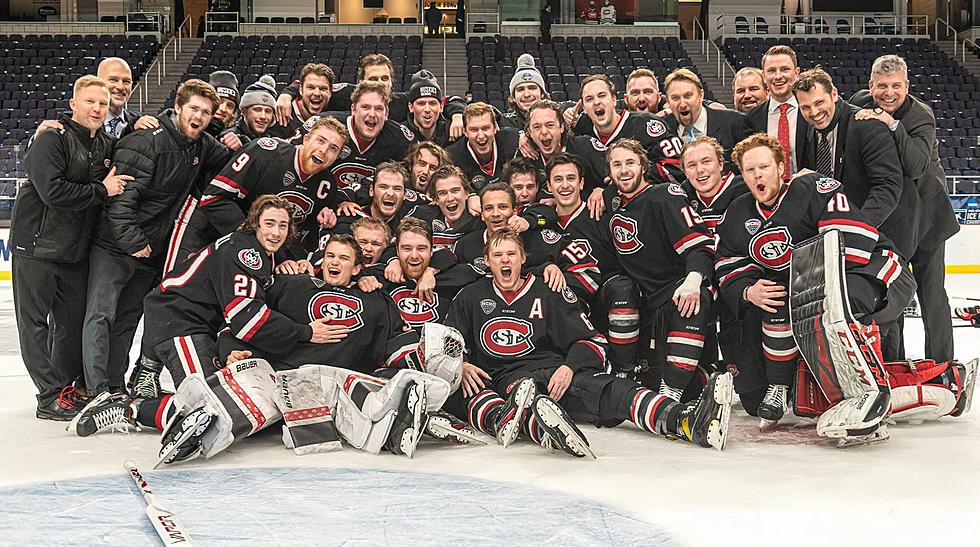 Let's Go Huskies, NCAA Frozen Four Starts Today
SCSUhuskies.com
For only the second time in program history, the Saint Cloud State Huskies men's hockey team has advanced to the NCAA Division-1 Frozen Four, to play for the national championship.
After a record setting NCAA men's hockey tournament 16-team field that included all five of Minnesota's Division-1 teams for the first time ever -- with all five Minny teams winning their first round matchups, the Minnesota Golden Gophers and Bemidji State Beavers were eliminated in the quarterfinals.
In the 2021/2022 season, Saint Thomas University in St. Paul will become Minnesota's sixth Division-I men's hockey program.
That leaves the NCAA Frozen Four in Pittsburgh with three of the four college programs residing in Minnesota -- with Saint Cloud State, Minnesota State (Mankato), and Minnesota-Duluth, joining Massachusetts in the final four.
An SCSU win today, paired with a UMD win later this evening would match the two Northern Collegiate Hockey Conference rivals in a game for the 2021 NCAA Men's Hockey Championship on Saturday.
UMD has won the last two national titles in 2018 and 2019, with the 2020 tournament canceled due to the coronavirus pandemic.
The only other time the St. Cloud State Huskies advanced to the NCAA Frozen Four was in 2013.
Saint Cloud State beat Boston University 6-2, and beat Boston College 4-1 in the Northeast regional of the 2021 NCAA tournament to advance to the Frozen Four.
Saint Cloud State (19-10-0) will face Minnesota State (22-4-1) from Mankato, appearing in their first Frozen Four, this afternoon at 4:00 PM CT on ESPN2, and on the radio at 96.7 FM.
UMD (16-10-2) takes on Massachusetts (18-5-4)in the second semifinal game at 8:00 PM CT on ESPN2.
BREAKING: According to the Boston Globe, UMass has lost their starting goalie, top goal scorer and two other players for their Frozen Four semifinal game against UMD tonight because of COVID-19 protocols.
The Frozen Four national championship game will take place Saturday at 6:00 PM CT on ESPN, and if the Huskies are playing that game will also be heard in the St. Cloud area on 96.7 FM.
10 Foods That We Are Putting in the Fridge that Shouldn't Be
More From 98.1 Minnesota's New Country