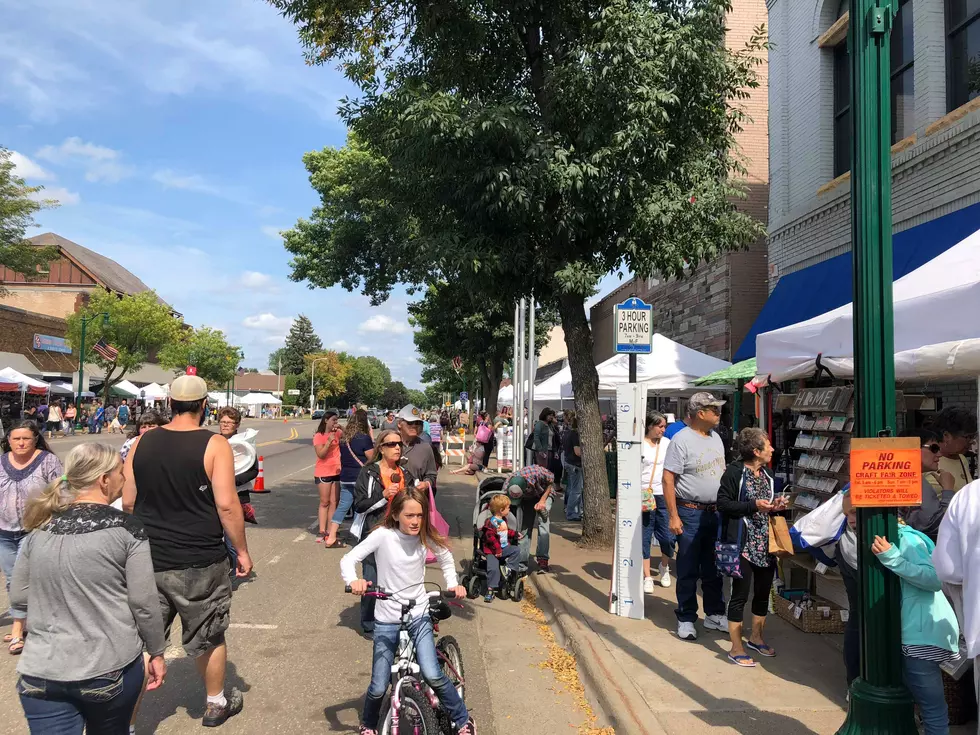 Insider's Guide to the Little Falls Arts & Crafts Fair
Abbey Minke
If you haven't been to the Little Falls Arts & Crafts Fair, there are few words I can use that would do it justice. It's one of those things you need to experience to fully grasp it's awesomeness.
In its 47th year, the Little Falls Arts & Crafts fair will feature more than 600 vendors from 20 states. Cross the river to the west side of town and you'll find more vendors, plus the Man Cave area and the 8th annual Marketplace Fair.
The 2019 Fair hours for this Saturday (9/7) will be from 8 am to 6 pm, and this Sunday (9/8) from 9 am to 4 pm. Admission is free.
The 2019 fair is expected to draw between 100,000 and 125,000 visitors this weekend, so parking can be an issue. Either be prepared to park and walk a fair distance, or take advantage of free shuttles from the Morrison County Fairgrounds (map). Watch for signs along Highway 10 and 371.
Don't worry about getting hungry or thirsty. In addition to food & drink vendors at the festival, Little Falls restaurants and bars roll out the red carpet with all kinds of specials and outdoor seating too.
The Fair has grown to encompass other venues that complement the event. The Lone Eagle Auto Club will sponsor a Car Show & Swap Meet on Sunday (9/8) from 7 am to 3 pm on Sunday. The West Little Falls Antiques & Collectibles Fair takes place each day on the west side of the Mississippi River.
If you're passing through Rice on the way to or from Little Falls, make a stop at the Old Creamery Arts & Crafts Show, celebrating it's 23rd year -- featuring 180 vendors.
After the Minnesota State Fair, the little Falls Arts & Crafts Fair is my favorite Minnesota event (and I am not an artsy/crafty guy). Have fun!
Pete Hanson is on 98.1 Minnesota's New Country weekday mornings from 5:30 to 10:00.