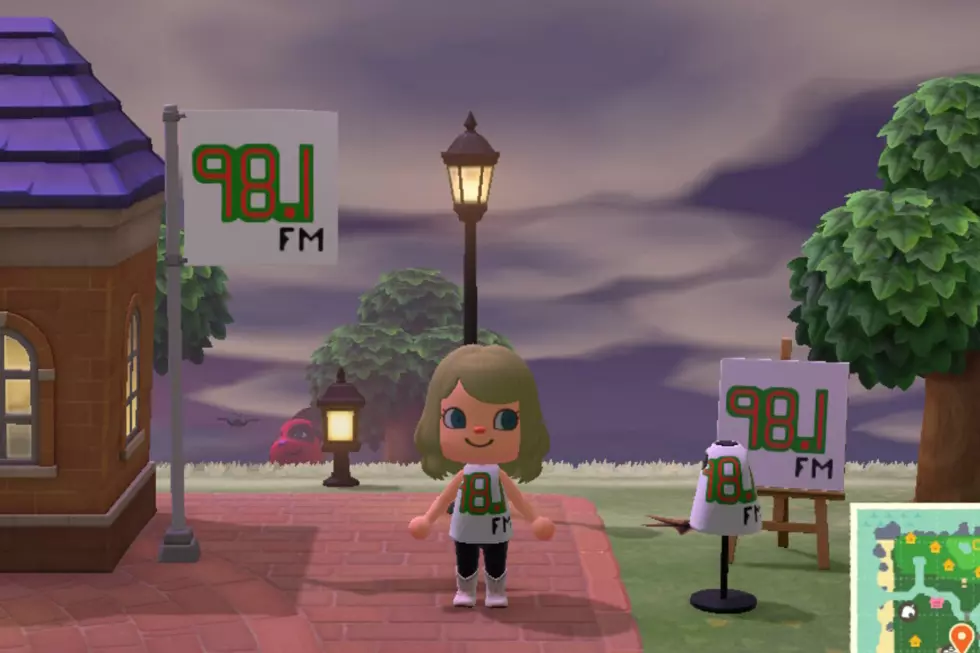 How to Get a 98.1 Logo Shirt on Animal Crossing New Horizons
Animal Crossing New Horizons
Social distancing has been fun hasn't it? Everyone is obsessed with a tiger loving redneck, making their own bread, and doing video game chores on a deserted island. I am guilty of two of these quarantine stereotypes. I'm just waiting for my bananas to be brown enough to justify turning them into a loaf.
Of these activities I have spent the most time playing Animal Crossing New Horizons on the Nintendo Switch. So far I have logged over 65 hours of gameplay in just three weeks. Which is a lot for someone who typically only uses the video game counsel to play Just Dance: 2018.
The best part of the game is that there is no real objective. You play at your own pace and build your island how you see fit. Go fishing, catch bugs, decorate your home, pay back your massive debt to the island manager. It's a great escape from reality. My island's name is Vinyl Isle, named for my love of vinyl records.
One afternoon I unlocked the capability to create my own designs. Naturally I took the opportunity to make a rendition of the 98.1 Minnesota's New Country logo, and I want to share it with you! I can't be handing out 98.1 swag at live events right now, so consider this like scoring a t-shirt at one of our events. You can use this 98.1 logo for a lot of things in the game like:
Shirts
Flags
Paintings
Bedspreads
Walls
Flooring
Phone cases
Wall Art
And probably even some more things I haven't figured out yet.
What you need to do to get this design is simple:
Have the Able Sister's clothing shop on your island
Access the Custom Designs Portal in the shop (you will need internet access and a paid Nintendo Switch Online membership)
Select "Search by Design ID"
Enter the code #: MO-QR5T-W13D-T1G4
Or search for the Creator ID: MA-9147-0355-0381
Save the design and use it on your island!
We would love to see photos of you using the logo on your character and island. Send them to us on the 98.1 Mobile App!
Enter your number to get our free mobile app
Getting a 98.1 Logo for Your Animal Crossing Island