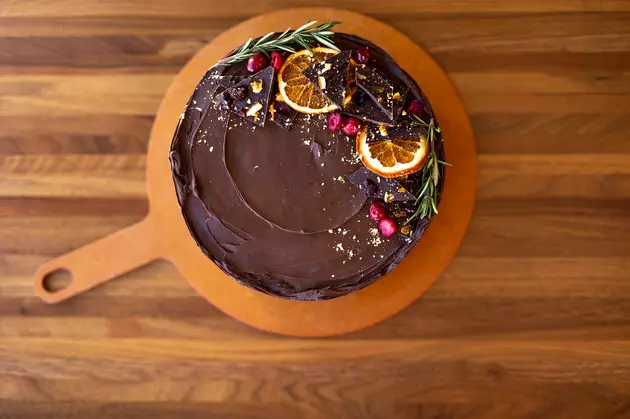 December's Kindness Cake: Chocolate Gingerbread Layer Cake
Photo by Donella Westphal, Jule's Bistro St. Cloud MN
C.A.K.E  (CULINARY ACTS OF KINDNESS ENCOURAGED)
Jule's Bistro in downtown St. Cloud started "The Kindness Cake Campaign" in October; making one of kind cakes each month, and selling whole cakes or pieces of cake to donate funds to local non profit organizations to help them get through this difficult time.
When you purchase a $20 slice of this cake, $13 (the equivalent of ONE meal) will be set aside to directly support the foodservice outreach program at Pathways 4 Youth. You can also purchase a whole kindness cake for $136, which provides the equivalent of 6 1/2 meals.
Enter your number to get our free mobile app
CHOCOLATE GINGERBREAD LAYER CAKE IN DECEMBER
This month, Jule's Bistro Bakers have created "Chocolate Gingerbread Layer Cake."  This decadent cake features cranberry orange spiced curd, cranberry pastry cream and chocolate ganache.  It's topped with dried oranges, fresh cranberries and a cranberry orange ginger chocolate bark.
Pathways 4 Youth was created to help youth experiencing homelessness on a path to grow and become contributing members of the community.
Pathways 4 Youth offers a safe secure environment for youth ages 16 through 24. They have a clothing closet, food pantry, medical help, shower and laundry facilities, a community room, access to computers to search for jobs or education programs, storage lockers, mailing addresses for employment or housing purposes, job training and advice, MNsure sign up, health and wellness, and supportive volunteers that assist in aiding youth through the services that are offered to them at the center.
You can help support a local non profit each month by purchasing a piece of cake from Jule's Bistro, or you can simply make donations to Pathways 4 Youth.
Christmas Decorations Have Been Put Up at Munsinger Gardens
More From 98.1 Minnesota's New Country