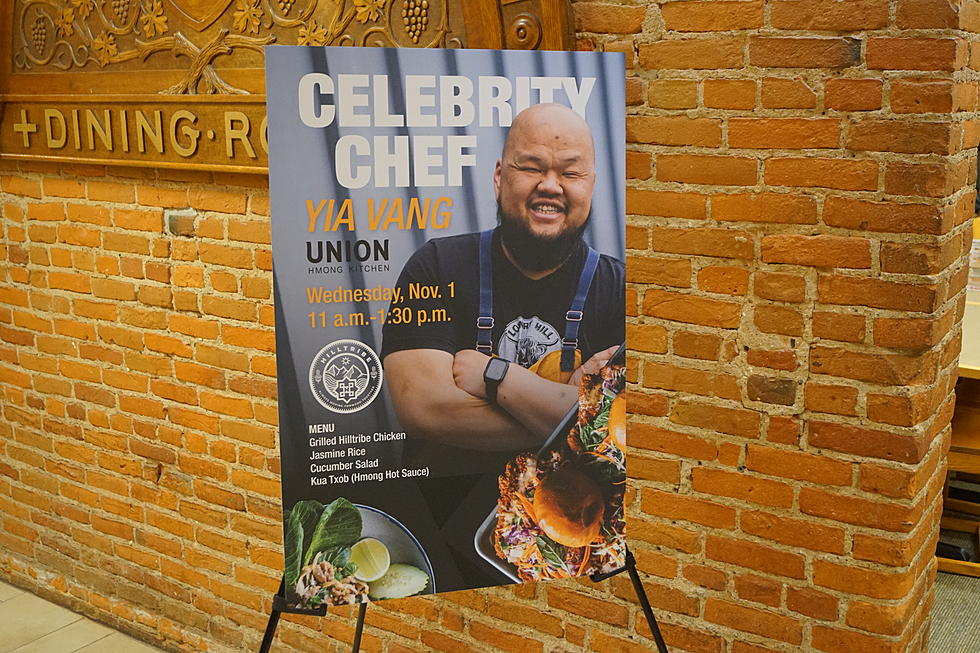 Celebrity Chefs Take Over Cafeteria at St. John's University
Photo: Jeff McMahon, WJON
COLLEGEVILLE (WJON News) - There are some new faces, and new foods, at the Refectory Dining Hall at St. John's University.
Over the next few weeks, three local "Celebrity Chefs" will take over the dining hall for a day and prepare meals inspired by their restaurants. Wednesday, Chef Yia Vang of the Union Hmong Kitchen in Minneapolis was on hand to prepare Grilled Hilltribe Chicken, and to educate the students about the Hmong culture.
I always tell people that Hmong food isn't a type of food, but it's a philosophy about food. So it's this idea. The philosophy is that Hmong people have always believed that there's this living world around us, that we can gather and glean from that living world. And we can make food and dishes that nourish our bodies, but more importantly, it builds community to bring people together.
Vang opened the Union Hmong Kitchen in the North Loop of Minneapolis in 2016. Since then, the restaurant has been nominated for a James Beard Award for Best New Restaurant and Vang was nominated for Best Midwest Chef. He opened a second location on Lake Street in July.
On the menu for students and faculty today: Grilled Hilltribe Chicken, Jasmine Rice, Cucumber Salad, and Kuq Txob (Hmong Hot Sauce).
Vang says he welcomes the opportunity to let students try some of his favorites.
We have, in our restaurant, this mantra, this thing that we always say: every dish has a narrative. If you follow that narrative long enough and close enough, you get to the people behind the food. And once you're there, it's actually not about food. It's about people. That food is a catalyst for cultivating great relationships.
Tony Finnestad is the Director of St. John's University Culinary Services. He hopes the featured chefs will create a sense of excitement about the University's Dining Hall.
I want us to start having fun again. This is a beautifully historic institution with a ton of tradition. I want people to look forward to coming in here. And I want them to wonder what's on the menu today. And I want them to be excited about coming in here every day.
The chefs will prepare meals for up to 700 people on a first-come, first-served basis.
Upcoming "Celebrity Chefs" at St. John's:
Monday, November 13th: Chef Pedro Wolcott from Guacaya Bistraux.
Tuesday, December 5th: Chef Gustavo Romero of Nixta.
READ RELATED ARTICLES
Most common fast food chains in Minnesota
Stacker
compiled a list of the most common chain restaurants in Minnesota using data from the Friendly City Lab at Georgia Tech.
Gallery Credit: Stacker
More From 98.1 Minnesota's New Country