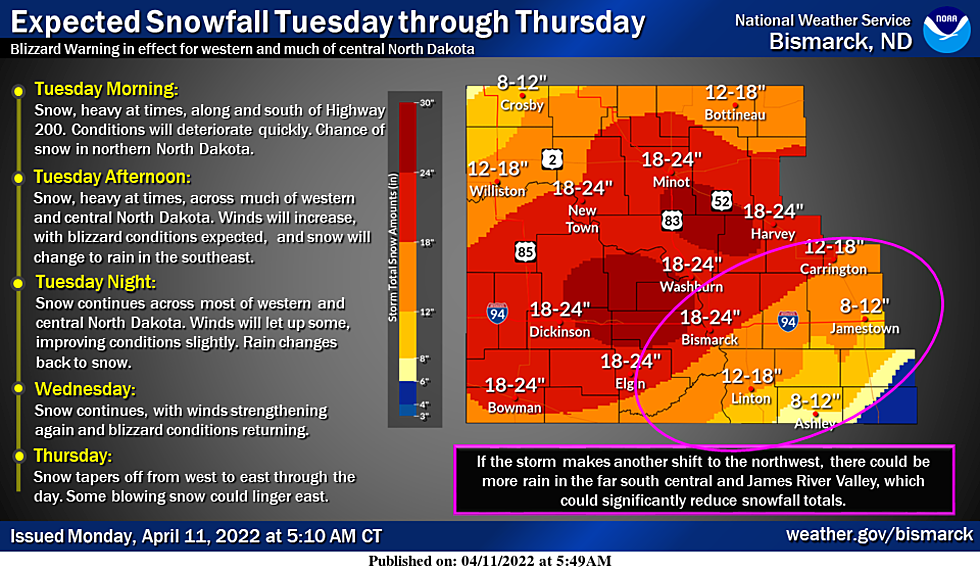 NWS: 1-2 Feet of Snow Possible in North Dakota
National Weather Service
UNDATED -- If you have plans to travel to North Dakota this week you'll want to reschedule them.
A significant winter storm will impact western and central North Dakota beginning Tuesday and continuing through Thursday, with a Blizzard Warning now in effect for the west and much of the central.
Snowfall amounts could exceed 24 inches in some places!
The main forecast change overnight was a shift to the northwest in the storm track, which in turn shifted the highest snow totals. If there is another shift northwest, temperatures in the far south central and James River Valley will stay warmer which would cause more precipitation to fall as rain. This could significantly reduce snowfall totals in this area, which is why some counties have not been upgraded from a Winter Storm Watch.
The weather service predicts travel may become difficult to impossible in some places.
A winter storm watch was issued for eastern North Dakota, northern South Dakota and
northwestern Minnesota.
10 Things All Minnesotans Can Relate to
More From 98.1 Minnesota's New Country