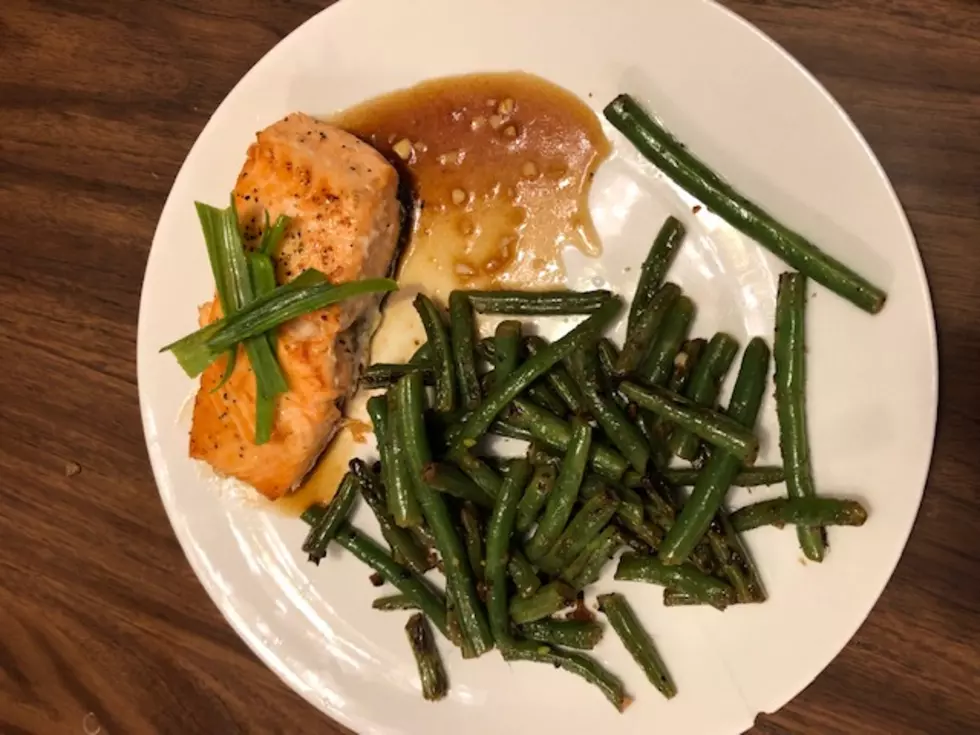 Another Amazing Recipe: Seared Salmon with Ginger Garlic Sauce
Photo by Kelly Cordes, TSM
My kids and I eat a lot of Salmon; so when I first saw this HOME CHEF box recipe, I wasn't that impressed. The picture was pretty but; how will it taste?
Much to my surprise, this recipe taught me a lot about flavors and different ways to cook or bake Salmon. Although I don't have the complete recipe here, this is a pretty good way to come up with a similar taste and beautiful looking plate.
Heat oven to 400. Put foil paper on baking sheet and spray with non stick cooking spray.
Heat 4 teaspoons of olive oil in a pan, and take four pieces of salmon. Lightly salt and pepper the salmon, and then place skin side UP in the pan for approximately 4-6 minutes until it has seared nicely on the bottom.
Transfer Salmon to baking pan, and put SKIN SIDE DOWN. Bake in oven for approximately 10-12 minutes or until fish is cooked.
While your Salmon is baking, take the original pan you seared your salmon in and add 4 teaspoons of olive oil, two cups of cut up green beans, some fresh chopped garlic to taste, along with salt, pepper, and about 1/8 of a cup of chopped ginger.
Stir over heat until greens start to soften and brown in spots.
While the greens are heating up,  take about 1/8 cup of Sesame Oil,  chopped white part of a green onion to taste, ginger, and thick teriaki sauce, and mix in mixing bowl. (No need for heating). add two teaspoons of water. This should give it a watery consistency.  (keep some small pieces of the green stem of the onion for garnish).
Place a two -three teaspoons  of the teriyaki mixture on your plate, put one salmon filet on top of it, with green beans on the side. Once you start mixing that sauce with the beans and the salmon, you are going to be amazed.  Put a few pieces of the green onion on top of the salmon for garnish, with a touch of ginger.
I'm not typically a big ginger fan, but this dish was utterly amazing. I want more!