Shop The Value Connection
You always save with The Value Connection and hundreds of values every single day. Here are some more extra-special limited-time savings, available at our website, over the counter at our retail outlets or by calling us at 320-258-SAVE.
---
FEATURED DEALS
SEPTEMBER 25-29, 2017
Sale prices in effect through noon, Friday, September 29th.
C&D GRANITE
$1000 general certificate — $1000 value for just $750.
(Very limited supply available.)
CLEARWATER TRAVEL PLAZA
$20 general certificate — $20 value for just $15.
COLD SPRING BAKERY
$10 general certificate — $10 value for just $6.
FAMOUS DAVE'S
$5 Pig Bucks — $5 value for just $3.50.
LEGENDS at The Holiday Inn
$10 general certificate — $10 value for just $5.50.
LILY'S WINGS & THINGS
$10 general certificate — $10 value for just $6.
LITTLE CAESAR'S
$10 general certificate — $10 value for just $6.
MINNESOTA BLACKTOPPING
$500 toward driveway blacktopping — $500 value for just $320.
---
LIMITED TIME SPECIAL
SAUK RAPIDS LIQUOR
Sauk Rapids Liquor has been serving the Sauk Rapids community since 1938 and has a full selection of wine, beer and liquor.Stop in and check out their large selection today!They are located right off Benton Drive across from Benton Station in Sauk Rapids.There is a purchase limit of 4 per customer on this Limited Time Special offer.
$10 at Sauk Rapids Liquor — $10 value for just $6.
---
NEW ITEM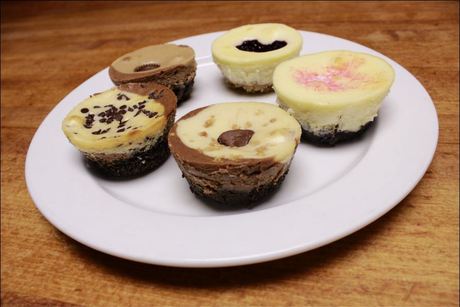 CHRISTINE'S SWEET CONFECTIONS
Christine's Sweet Confections has the perfect cheesecake flavors for you! Whether you crave chocolate, strawberry, vanilla or something more complex, they have hundreds of combinations designed to satisfy your taste buds.
15 Mini Cheesecakes from Christine's Sweet Confections — $21 value for just $15.
---
NEW ITEM
QUARKS AMERICAN BENTO
Quarks American Bento is a fast casual dining restaurant featuring great tasting, healthy food that is prepared fresh and fast. Fill your bowl with your choice of whole grains or lettuce, meat or seafood and a variety of raw veggies.Top it off with their flavorful, scratch-made, custom sauces for even more vitamins and nutrients.Quarks American Bento will make eating fresh, healthy, whole foods naturally tasteful and will be considered the standard for tastefully healthy in a hurry.
$10 general Certificate at Quarks American Bento — $10 value for just $7.
---
LIMITED TIME SPECIAL
J & B WESTERN STORE
J&B Western Store started small-in 1985, J.R. and Betty Sundby sold saddles out of their East Gull Lake, Mn home. Because of their great customer service, unbeatable prices and knowledgeable staff, their business grew and grew. Now, J&B Western Store operates out of a 10,000 square foot store near Pillager. Horse enthusiasts of any age or riding discipline are sure to find what they need to keep themselves and their horses riding well and looking sharp on the trail or in the arena.
J&B Western is a full service Western and English store here to serve you with a knowledgeable, friendly staff. All of our sales associates own horses and show, trail ride or compete. Come on in and find what you're looking for or place an order-J&B Western ships merchandise all over the world!!
$50 at J&B Western Store — $50 value for just $34.
$100 at J&B Western Store — $100 value for just $68.
---
PRICES REDUCED 75% — WHILE THEY LAST!
FIREBUGGZ
Who wants S'Mores? Create your own customized backyard fire pit sanctuary with Firebuggz products. Landscape design and creation available. Firebuggz has the landscape block and a bunch of Firebuggz accessories to create your ultimate fire pit experience.
$100 Toward Products, Design & Creation from Firebuggz — $100 value for just $25.
---
PRICE REDUCED — ONLY WHILE THEY LAST!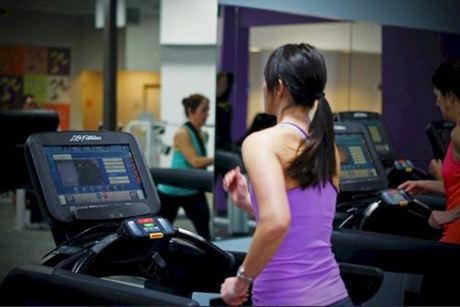 ANYTIME FITNESS IN WAITE PARK
Get to a healthier place at Anytime Fitness!  Start the new year in the best possible way with the Ultimate Package! This Family of Four Ultimate Package includes 18-month membership, unlimited tanning and a free training session. At Anytime Fitness, the friendly and professional staff is trained to help you along your fitness journey, no matter how much support you need. Whether you're new to working out or a fitness pro, Anytime Fitness is here to provide a variety of training options, guidance, and support to help you stay on track and reach your goals.
18-Month Membership for Family of 4 at Anytime Fitness — $3,194 value for just $999
---
PRICE REDUCED — ONLY WHILE IT LASTS!
EAGLE TRACE GOLF
Lifetime golf single membership to Eagle Trace Golf Course, including unlimited daily golf with your prime choice of tee times. You can book your tee time ten days in advance and play in the golf league for free. Plus, you get free access to the driving range and swimming pool. (Cart not included.)
Lifetime Membership at Eagle Trace Golf — $8,000 value for just $2,550.
---
FOLLOW THE VALUE CONNECTION ON FACEBOOK & TWITTER
Follow The Value Connection on Facebook and Twitter! Stay up-to-date on our newest items, limited time specials, on location events and more.
---
Here are several ways to order from The Value Connection:
— Shop online at TheValueConnection.com. We'll mail certificates to you.

— Call 320-258-SAVE (320-258-7283) to place your order. We'll mail certificates to you.

— Buy and pick-up certificates at one of our retail outlets:
Value Connection Headquarters for Townsquare Media at 640 SE Lincoln Avenue, Monday-Friday 8-6, Saturdays 9-1.
Miller Auto Plaza at 2930 2nd Street South in St. Cloud, Monday-Friday 9-9, Saturdays 9-6.
Crossroads Shopping Center, Located near Target. Open Monday through Saturday 10:30 – 7 (1:30 – 2 closed for lunch), Sundays 12-5.
---
Sign-up for our Value Connection Newsletter!
We'll deliver weekly specials on Monday mornings and weekend specials on Friday mid-day!
*

 Email

*

 First Name

*

 Last Name

*

 Zip

*

= Required Field
Email Marketing You Can Trust